HIP - Horticultural Identification Products produces a number of green labels and tags ... to make your garden greener and reduced the amount of plastic used in labeling potted plants.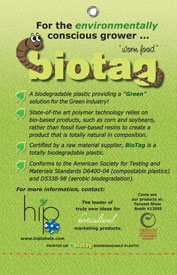 "BioTag is produced using a ... polymer technology that relies on bio-based products such as corn, soybeans, sorghum, tapioca, and potato starches rather than fossil fuel-based resins. ... natural composition that is biodegradable in the soil in approximately one year. ... meets or exceeds all ASTM standards for compostable plastics and aerobic biodegradation."
" ... EcoTag, a degradable alternative to traditional plastic nursery tags. ... Manufactured using wind power ... is environmentally friendly ... rigid nursery tags retain their integrity until buried in compost or disposed of in a landfill. The buried degradation process takes 1 to 5 years."


Via:
hiplabels
LINK